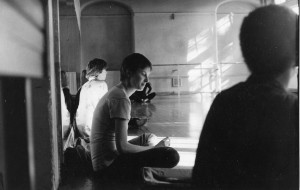 Ingegerd Lönnroth was an active choregrapher from 1973 to 1993.  She began her dance education at Statens Dansskola in Stockholm and completed it at The London School of Contemporary Dance in 1976.
Before moving to London, Ingegerd had also choreographed and co-directed a series of 24 children's programmes for Swedish Television (which still continue to be sold) and spent a year in Paris at the Marcel Marceau Mime School.
It was though the Graham-based training at The Place that influenced her artistic direction the most.
Ingegerd received the Carina Ari award in 1973 – and again in 1976.  In 1977, she won a place at the Gulbenkian National Choregraphic Summer School and in 1978 she received The Royal Society of Arts Choreography Award.
The founding of Junction Dance Company with Kris Donovan in 1976 was the first significant step in Ingegerd's career as a choreographer.  Both Kris and Ingegerd wanted to work closely with composers and this indeed became the signature of their pieces for Junction.  In parallel with her work for Junction, Ingegerd was also the artistic advisor to Extemporary Dance Company – for whom she created two pieces.
The next key step in Ingegerd's choreographic development came in 1977 when she met the composer Barrington Pheloung at the Gulbenkian Summer School.  Over the course of the next five years, Barry composed eight original compositions for Ingegerd.  It was a very rich and fruitful period.  (Other composers that Ingegerd would later work with include: Davor Kajfes, Graham Koehne, Ratzo Harris, Hilda Paredes and Matteo Fargion).
Junction Dance Company lasted into early 1979.  Junction had been founded principally as a repertory company, but Ingegerd had been working with a wide range of dancers, many from London Contemporary Dance Theatre, and it seemed natural to move on to a different structure – "Inge Lonnroth and Dancers".
The non-repertory nature of Inge Lonnroth and Dancers gave Ingegerd greater scope for development and it allowed her to take up commissions for other companies, or temporary collaborations, in Britain and abroad.  Over the following years, Ingegerd choreographed for companies in Ireland, Norway, Sweden, Germany, Venezuela and Spain.
In addition to pure choreography work, Ingegerd also taught.  She first began teaching choreography in 1976 at The London School of Contemporary Dance as Nina Fonaroff's assistant.  She taught there until 1983 and then again from 1986 to 1993.
dw, 2011